Home
Mari Simmulson Chartreuse and Taupe Textured Vase
Andrews
Mari Simmulson Chartreuse and Taupe Textured Vase
From Haute Curature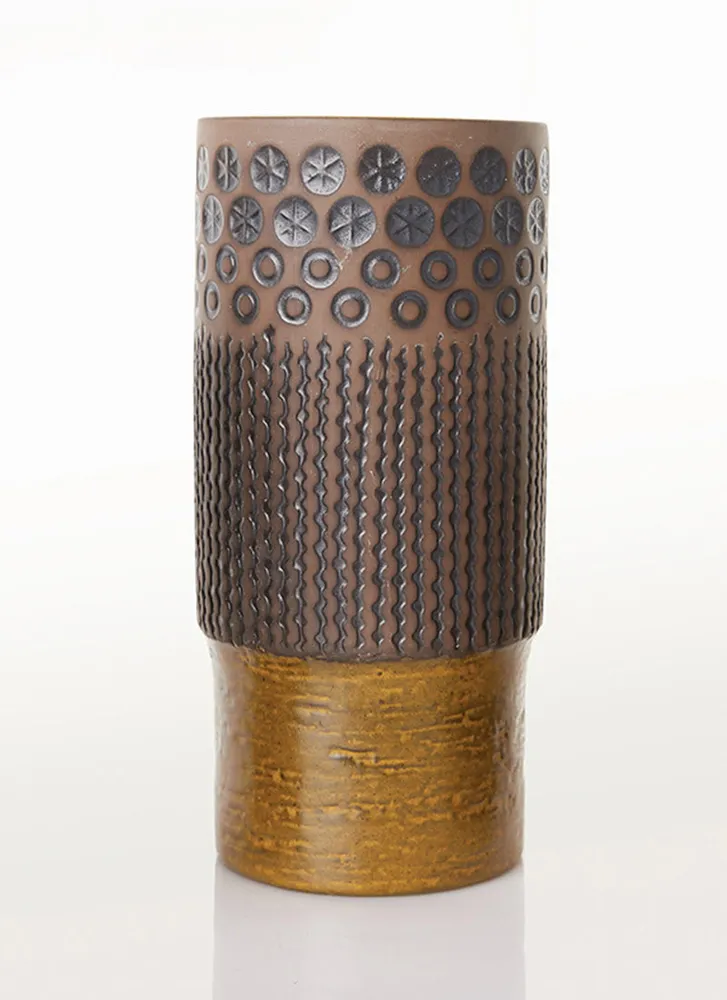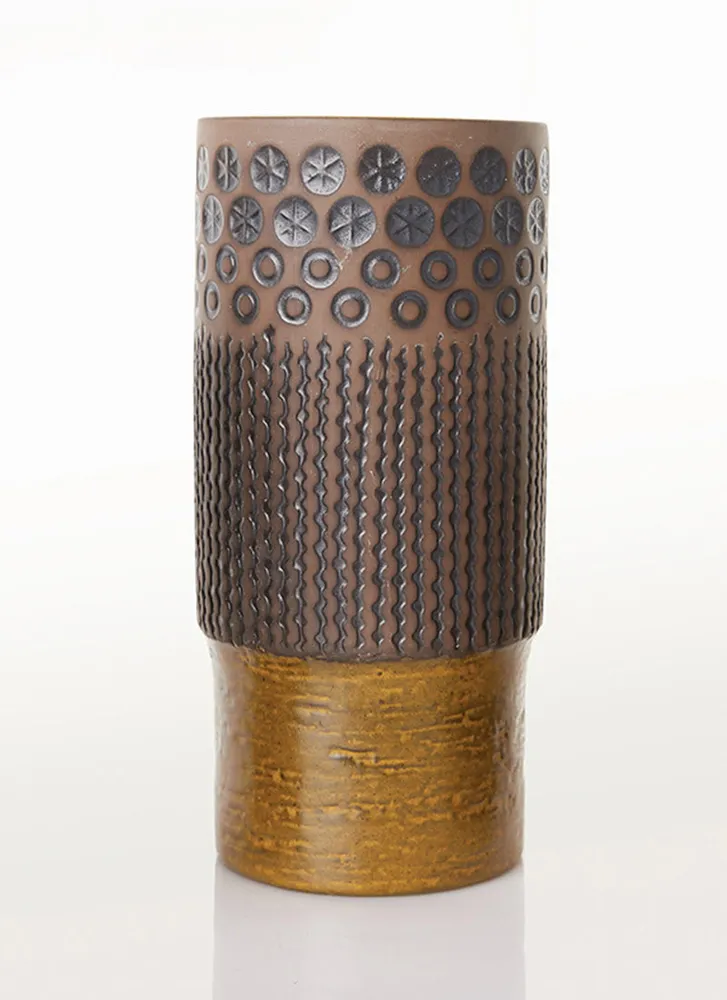 Andrews
Mari Simmulson Chartreuse and Taupe Textured Vase
This item is available exclusively for pickup at our Oakville location.
This timelessly contemporary work of Swedish Mid Century design is by Mari Simmulson (b. 1911- d. 2000) for Upsala Ekeby. Simmulson was a celebrated Swedish ceramics designer and ceramicist, known for many series she designed at Upsala Ekeby which went on to become classics.
This hand-thrown and hand-glazed work comes from Simmulson's Peru series, designed in 1966. The series is characterised by the textured and tactile Chamotte earthenware forms, inscribed with Peruvian-inspired geometric symbols and jagged bands that encircle the body.
The glaze décor is a pairing of semi-glossed Chartreuse and matte Taupe that is further complimented by the semi-glossed Dark Espresso inscriptions. The form and décor of this piece are undeniably Modernist in design, highlighting the seamless harmony of function, form, and raw materials and a particularly rare find in size and form.
[size]
Dimensions: Height: c. 9" / 23 cm tall (from base to rim). Rim measurements: c. 4.4" / 11.2 cm. Diameter: c. 4.4" / 11.2 cm (across widest point). Base measurements: c. 3.6" / 9.1 cm. Unpackaged weight: c. 0.9 kg / 850 g
Condition: Excellent - there are no chips, cracks or repairs. There is faint surface wear and very light movement marks on the underside of the base. The underside of the base is inscribed with Upsala Ekebys 'UE Sweden' and Simmulson's 'ms' monogram as well as the model number '6074m'.
[/size]
[details]
Fabric Content: Ceramic
Vendor Colour Code: MULTI
Vendor Style Code: 1311181035
Andrews SKU: 6106-0005
[/details]