Home
Bertoncello Trailed Glaze in Midnight Fire Sculptural Baluster Vase, 1970s
Andrews
Bertoncello Trailed Glaze in Midnight Fire Sculptural Baluster Vase, 1970s
From Haute Curature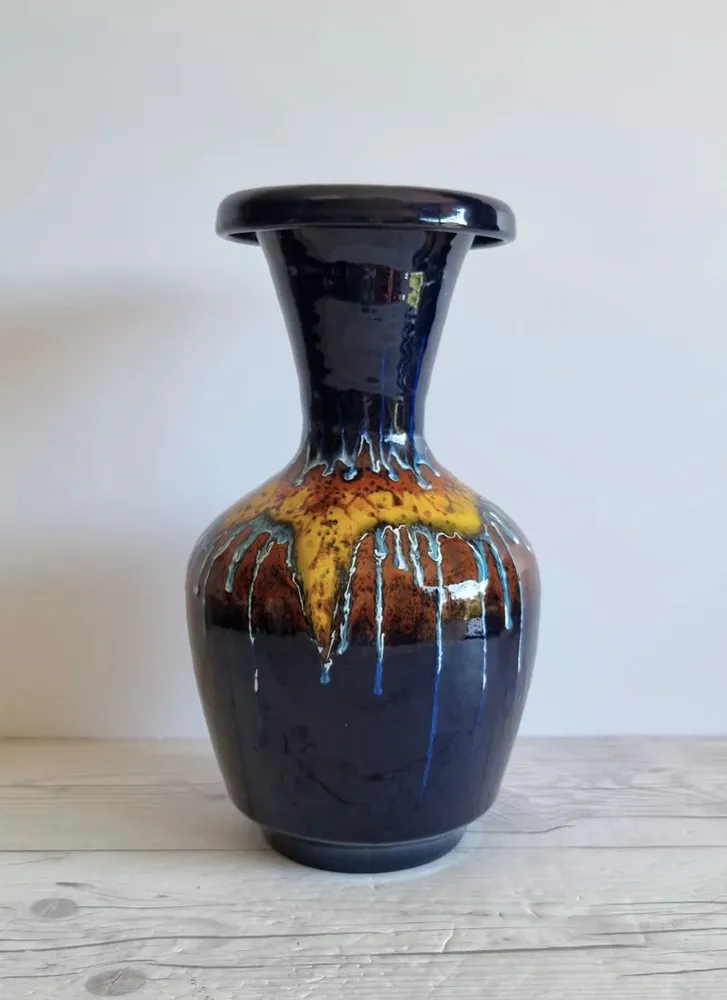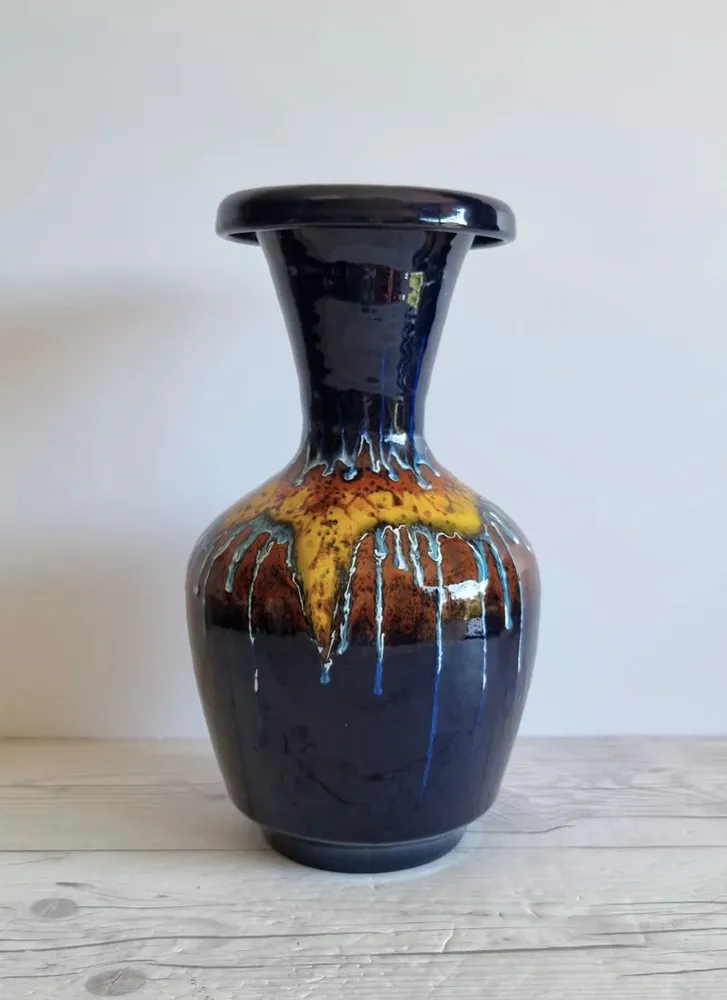 Andrews
Bertoncello Trailed Glaze in Midnight Fire Sculptural Baluster Vase, 1970s
PLEASE NOTE: This item is only available for pickup at our Oakville location.
This vibrant work of mid-century Modern Italian art ceramic is by Bertoncello Ceramiche D'Arte (estd. c. 1956 - c. 1999). The base form is that of a baluster but true to studio pottery's design style, the neck, and the rim are gently yet exaggerated adding the touch of characteristically Bertoncello dramatic flair to the overall piece.
Further elevating this piece is the high-gloss and sumptuous Azure base glaze which sits as the canvas for the fiery palette trail glaze. Applied in a seamless and silky-to-touch manner, the orange tones in Flame, Sienna, and Brick are interspersed with the deep yellows of Saffron and Goldfinch. The final glaze accent is the trails of Porcelain white which edge the trails of the interwoven Azure blue.
The stylised form, majestic size and eye-catching glaze palette combined with the excellent condition of this piece make it a rare find that can be displayed as a standalone statement piece or functionally as a vase.
[size]
Dimensions: Height: c. 12" / 30.5 cm width (across widest point). Diameter: c. 7.3" / c. 18.5 cm (across widest point). Rim diameter: c. 5.5" / 14 cm. Base measurements: c. 4.1" / c. 10.5 cm. Unpackaged weight: c. 1.6 kg / 1,645 g
Condition: Excellent. No chips, cracks, or repairs. Most notable wears are the movement marks on the underside of the base that are commensurable with the age of the piece
[/size]
[details]
Fabric Content: Ceramic
Vendor Colour Code: SAPHIRE
Vendor Style Code: 1311181088
Andrews SKU: 6106-0026
[/details]